"The Unexpected Dachshund" is my short story in Instinct: An Animal Rescuers Anthology, which will be out on March 7, 2023.
The theme of the anthology is how our animal companions can at times rescue us, and my story deals with, naturally, a dachshund on a colony planet with an eco-system that turns out to be much stranger than anyone imagines. The dachshund, of course, is based upon Buddy Mozart, whom I'm holding in the poster below.
And besides enjoying my story [I hope], if you buy the anthology, you'll also be supporting Lifeline Puppy Rescue.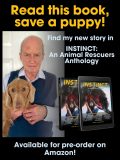 Instinct will be available as an ebook and a paperback. Paperbacks are not eligible for pre-order but will be available March 7th!