THE THIRD BOOK OF THE COREAN CHRONICLES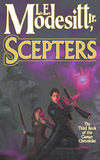 0-765-30704-9
In 2002, L.E. Modesitt, Jr., the author of the Recluce Saga and the Spellsong Cycle launched a marvelous new fantasy series with Legacies (Tor), the first book of the Corean Chronicles. Called "solidly engrossing" by Kirkus Reviews, it introduced the world of Corus, the first Modesitt imaginary world to incorporate supernatural creatures into its design. Its hero was Alucius, one of the "Talented" few who can use the magic of Corus. In Darknesses (Tor, 2003), Alucius faced new challenges and became a captain in the militia. Now, in SCEPTERS, Alucius has at last returned home to his farm.
After the wars and hardships of the past several years, Alucius is happy to finally return home to his Nightsheep farm and his wife, Wendra, who is pregnant with their first child. But this happiness doesn't last long, for the land of Corus is once again beset by enemies on all sides. Alucius finds he must return to active duty to do his part to stave off the coming conflicts. He is promoted to higher rank and given command of a combined force of Northern and Southern guards to aid the fight. With his army, Alucius encounters all sorts of new enemies including a religiously inspired rebellion and an alien evil that seeks to enslave the entire population of Corus. Meanwhile, Alucius' old enemy, the Madriens, are again using their ancient weapons to wreak havoc on the land.
With all of these battles raging, Alucius must call on the mysterious ancient Soarers, his own Talent, as well as that of his wife, if he has any hope of success. SCEPTERS is a thrilling conclusion to the first epic trilogy of L.E. Modesitt, Jr.'s Corean Chronicles.
Buy this Book at Amazon
|
Buy this Book at BN.com
|
Buy this Book at Powells
SCEPTERS
L.E. Modesitt, Jr.
A Tor Hardcover
0-765-30704-9 / $27.95
July 2004