THE THIRTEENTH BOOK OF THE SAGA OF RECLUCE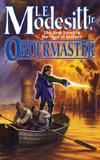 0-765-35089-0
This past April, popular fantasy author L.E. Modesitt, Jr. returned to his signature series, The Saga of Recluce, with Wellspring of Chaos (Tor, 2004) and introduced a new character. Kharl was a talented cooper, known for his skill and respected in the community. He lived a quiet, well-ordered life until the day that he steps in to save a neighbor's daughter from two lecherous men, and then takes in another woman who was found unconscious. From that moment on, Kharl's life was forever changed. The criminal was unmasked as Egen, the corrupt son of the local leader and rather than reward Kharl for his brave actions, he was arrested and nearly destroyed. Now, in ORDERMASTER, the thirteenth book in the saga, Modesitt continues Kharl's story.
As a reward for helping to quell his brother's revolt, Lord Ghrant of Austra had bestowed Kharl with an estate. But no sooner had he arrived at his new home, Kharl is summoned back to the capital this time to his friend Hagen, the lord-chancellor, deal with a group of rebellious nobles. During the battle, Kharl discovers his new ability to use order magery and with this power is able to bring the bloody campaign to an end. Civil order is again restored to Austra and Ghrant's throne firmly secured.
However, Kharl is still not able to return to his estate and privacy. Instead, Lords Ghrant and Hagen bid him to return to his homeland of Nordla as their envoy. Nordla has become the next target of Hamorian expansion and Kharl's nemesis, Egan, is engaged in a plot with the Hamorians to take the throne and open Nordla to the enemy. Kharl knows that he must step in and find a way to once again stop Egan and save both his homeland and adopted new country.
L.E. Modesitt, Jr. has become known for writing exciting fantasy adventure novels for both the YA and adult audiences and ORDERMASTER is no exception. Both fans of the earlier installments of The Saga of Recluce as well as fantasy fans in general will enjoy Modesitt's latest work, ORDERMASTER.
Buy this Book at Amazon
|
Buy this Book at BN.com
|
Buy this Book at Powells
ORDERMASTER
L.E. Modesitt, Jr.
A Tor Mass Market Paperback
0-765-35089-0 / $7.99
December 2005