THE TENTH BOOK OF THE SAGA OF RECLUCE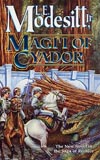 0-812-57948-8
Bestselling author L.E. Modesitt, Jr. returns to the world of Recluce in MAGI'I OF CYADOR. This, the tenth installment in the popular saga, tells the story of Lorn, a talented boy born into a family of Magi'i.
Lorn is bright and shows remarkable talent. However, he is lacking the one attribute required to become a Magus of Cyador-unquestionable loyalty. Too independent for his own good, Lorn is made into a lancer officer and sent to the frontier to risk his life fighting against the barbarian raids. His enemies don't expect him to survive but is there to more to Lorn than first thought?
Although firmly rooted in the world of Recluce, MAGI'I OF CYADOR can also stand alone. New characters allow this adventure to be the perfect introduction for both readers new to the series as well as those who are already devoted fans of L.E. Modesitt, Jr.
Buy this Book at Amazon
|
Buy this Book at BN.com
|
Buy this Book at Powells
MAGI'I OF CYADOR
L.E. Modesitt, Jr.
A Tor Mass Market Paperback
0-812-57948-8 / $7.99
May 2001