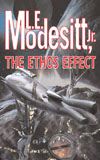 0-765-34712-1
Tor Books is pleased to announce the publication of THE ETHOS EFFECT an all-new science fiction novel from bestselling author L.E. Modesitt, Jr. Set in the same universe as Modesitt's earlier novel, The Parafaith War (Tor 1997), THE ETHOS EFFECT takes place two centuries later and stands on its own.
Commander Van C. Albert of the Republic Space Force of Taran is known as a brave and resourceful officer. However, a civilian liner was recently lost during a struggle between Van's ship and a larger enemy ship and he was held responsible for the tragic loss. Now, although he has been cleared by the board of inquiry and allowed to continue his military career, Van is still not popular with the high command and they will take any opportunity to force him out. So, when Van is seriously injured while heroically preventing an assassination attempt his superiors leap at the change to promote and retire him with honors while he is still unconscious.
Van wakes after a long recovery to discover that he is no longer an active member of Republic Space Force and needs to find a new career to occupy his time. Since there are few jobs for ship captains of his experience, Van decides to take a chance on a somewhat mysterious non-aligned foundation—Integrated Information Systems. But IIS is more than it seems at first glance. In reality, it's a surprisingly powerful force in the inhabited galaxy and more importantly, possibly the only one that anticipates the coming interstellar war. Van will again find himself in the midst of international conflict.
Buy this Book at Amazon
|
Buy this Book at BN.com
|
Buy this Book at Powells
THE ETHOS EFFECT
L.E. Modesitt, Jr.
A Tor Mass Market Paperback
0-765-34712-1 / $7.99
December 2004