THE SIXTH BOOK OF THE SAGA OF RECLUCE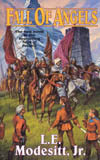 0-812-53895-1
L. E. Modesitt, Jr.'s bestselling fantasy novels set in the magical world of Recluce have established a standard of entertainment in contemporary fantasy. "In Modesitt's universe, where good and evil, chaos and order, are in perpetual conflict, a young wizard finds that his destiny is to strike a balance, but at considerable personal cost. Modesitt creates a deeper and more intricate world with each volume," says Publishers Weekly. "Modesitt's elaborate and intelligent working out of a systemof magic and a system of technology parallel to it is becoming more the lifeblood of the Recluce books with every new volume. . . . His saga continues to gain in popularity," says Booklist. Each Recluce novel tells an independent story that nevertheless reverberates though all the other Recluce novels to deepen and enrich the reading experience.
Now in FALL OF ANGELS, Modesitt moves deep into Recluce's past to chronicle the founding of the Empire of the Legend, the almost mythological domain ruled by woman warriors on the highland plateau of the continent of Candar. He tells the story from the point of view of Nylan, the engineer and builder whose job it is to raise a great tower on the plateau known as the Roof of the World. Here the exiled women warriors will live and survive to fulfill their destiny. Here a revolutionary new society will be born . . . if Nylan can get the tower built and defenses in place before the rulers of the lowland nations come with their armies to obliterate them all. And if Nylan can learn to control the magical powers that are growing within him.
Thus Modesitt relates the story of how magic comes into the world of Recluce, in a fantasy novel destined to please the growing Recluce audience and win new readers to the series.
Buy this Book at Amazon
|
Buy this Book at BN.com
|
Buy this Book at Powells
FALL OF ANGELS
L.E. Modesitt, Jr.
A Tor Mass Market Paperback
0-812-53895-1 / $7.99
July 1997