The sequel to The Lord-Protector's Daughter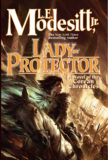 0-765-32804-6
Though a bloody coup has made Mykella ruler of her land, it has left her and her two sisters bereft of family and largely without friends or supporters. Worse, an examination of the nation's accounts reveals that their country is almost destitute. Plus, there are rumblings of war along the borders. With no money and few allies, Mykella is faced with the difficult prospect of rebuilding her nation while trying to hold off a potentially devastating invasion… not to mention the possible return of an ancient enemy of all Corus.
Buy this Book at Amazon
|
Buy this Book at BN.com
|
Buy this Book at Powells
Lady-Protector
L.E. Modesitt, Jr.
Hardcover from Tor
ISBN-10: 0765328046
ISBN-13: 978-0765328045
March 2011