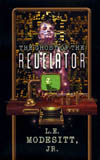 0-312-86426-4
L.E. Modesitt, Jr., has gained a legion of devoted fans for his science fiction as well as his epic fantasy novels. THE GHOST OF THE REVELATOR is one of the best displays yet of his ability to blend dramatic, imaginative stories with rigorous social and scientific extrapolation.
Doktor Johan Eschbach (the central character of Modesitt's popular alternate history SF novel, Of Tangible Ghosts) had hoped for a quiet life in retirement from the intelligence service, teaching environmental science at the University of New Bruges and living with his new wife, the vocalist Llysette du Boise. Llysette, a refugee from the burning remains of France, would herself like little more than to resume her singing career and forget her time in the prison camps of the Hapsburg Empire.
But an unusual invitation from the Mormon nation of Deseret inexorably drags Johan back into the spy business, though he isn't quite sure why or for whom. It quickly becomes apparent that he is being used as a pawn in a deadly game of international maneuverings that are leading the world closer to war.
Buy this Book at Amazon
|
Buy this Book at BN.com
|
Buy this Book at Powells
THE GHOST OF THE REVELATOR
L.E. Modesitt, Jr.
A Tor Hardcover
0-312-86426-4 / $23.95
September 1998