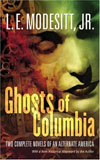 0-765-31314-6
Renowned author L.E. Modesitt, Jr. first introduced readers to the exquisite world of Ghosts in 1994 with Of Tangible Ghosts (Tor). Hailed by Booklist as "possibly Modesitt's best book," the novel's intricate world—where ghosts and humans co-exist in an America far different than our own—captivated readers with its startling originality and served as the backdrop for two more powerful novels, The Ghost of the Revelator (Tor, 1998) and Ghost of the White Nights (Tor, 2001).
Now for the first time ever, Tor Books presents the amazing first two novels of this series, Of Tangible Ghosts and The Ghost of the Revelator, in a beautifully-crafted omnibus destined to be treasured by both fans new and old—GHOSTS OF COLUMBIA.
College professor Dr. Johan Eschbach lives in a world of extraordinary circumstances, where the spirits of dead men frequent the haunts of the living and the vast nation of Columbia stretches across what we know as the United States and Canada. But to Dr. Eschbach, the incredible world around him is no more remarkable than the sleepy town in which he lives and the ghosts no more than harmless reminders of times gone by. That is, until he meets the wrong ghost…
Dr. Eschbach gets the wake-up call of his life when he encounters the ghost of a murdered girl in Of Tangible Ghosts. He can't help but be disturbed by the existence of these tragic spirits and he can't help but see the political implications of living in a world where your crimes can literally come back to haunt you. Soon he finds himself swept out of his retirement and happy marriage into two unforgettable run-ins with the ghosts of Columbia in Of Tangible Ghosts and The Ghost of the Revelator.
An irresistible pairing of two of Modesitt's most lauded novels and an engrossing new historical afterword written by the acclaimed author himself, GHOSTS OF COLUMBIA will occupy a special place in readers' libraries for years to come.
Buy this Book at Amazon
|
Buy this Book at BN.com
|
Buy this Book at Powells
GHOSTS OF COLUMBIA
L.E. Modesitt, Jr.
A Tor Trade Paperback
0-765-31314-6 / $14.95
June 2005