THE FOURTH BOOK OF THE COREAN CHRONICLES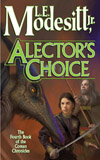 0-765-31387-1
In 2002, L.E. Modesitt, Jr., the author of the Recluce Saga and the Spellsong Cycle, launched a marvelous new fantasy series with Legacies (Tor), the first book of the Corean Chronicles. Called "solidly engrossing" by Kirkus Reviews, it introduced the world of Corus, the first Modesitt imaginary world to incorporate supernatural creatures into its design. Its hero was Alucius, one of the "Talented" few who can use the magic of Corus. Modesitt followed this with two more books in this up-and-coming series, Darknesses (Tor 2003) and Scepters (Tor 2004). Now, in ALECTOR'S CHOICE, Modesitt returns to the world of Corus with a new adventure.
While ALECTOR'S CHOICE is the fourth book in the series, the story is set several thousand years before the events chronicled in the previous books, providing an excellent entry point for newcomers. At this time in Corus' history the Talent-magic of the Duarchy rules the land with the help of the Myrmidons of Justice, an airborne law-enforcement agency who ride on fearsome pteridons. It is a peaceful and prosperous time for the Corean people.
The Alectors came to Corus from another world, and though they are different from the native Coreans, they have Talent and hold high positions within the government. Dainyl has risen to the rank of Alector Colonel of Myrmidons—the fourth highest military ranking officer of the Duacrchy. But when his direct superior is covertly murdered by the Marshal of Myrmidons, Dainyl is sent on an observation mission to Dramur to see how a battalion of mounted rifles handles an apparent rebellion.
It is on this mission that Dainyl meets Captain Mykel, the young officer in command of a battalion. Mykel is potentially Talented and not aware that should he discover and develop these powers, his life is forfeit. Only Alectors are allowed to use the Talent and Mykel is merely a man.
As the rebellion, becomes real the military commanders fall victim to treachery, corruption and greed, putting the peace of Corus at great risk. This military incompetence spirals out of control and Dainyl and Mykel realize that they must stick together if there is to be any hope of crushing the rebellion—and staying alive in the process.
Buy this Book at Amazon
|
Buy this Book at BN.com
|
Buy this Book at Powells
ALECTOR'S CHOICE
L.E. Modesitt, Jr.
A Tor Hrdcover
0-765-31387-1 / $27.95
June 2005