THE NINTH BOOK OF THE SAGA OF RECLUCE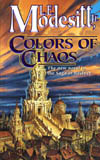 0-812-57093-6
The biggest fantasy from L.E. Modesitt, Jr. to date, COLORS OF CHAOS is the story of the White Chaos wizard Cerryl's education in life and love, and his rise to power in the Magician's guild of Fairhaven.
This is the direct sequel to The White Order, which told of Cerryl's boyhood and youth, and takes place at the same time as Modesitt's earlier novel The Magic Engineer (Tor 1994). Yet, COLORS OF CHAOS stands alone.
Cerryl, now a full mage in the White Order, must prove himself indispensable to Jeslek, the High Wizard. Cerryl faces many harrowing obstacles, not the least of which is Anya, the plotting seductress who is the real power behind the scenes of the White Wizards. With his wit, integrity, and support of his love the black healer Leyladin, he must survive long enough to claim his rightful spot within the ruling hierarchy of the White Order.
A must-read for followers of the Saga of Recluce, COLORS OF CHAOS offers a unique point of view of the White Chaos wizards-the forces that throughout history have opposed the magicians of Recluce. It is a portrayal of growth and change of character, as well as of the strengths and weaknesses of an age-old civilization held together by the power of magic.
Buy this Book at Amazon
|
Buy this Book at BN.com
|
Buy this Book at Powells
COLORS OF CHAOS
L.E. Modesitt, Jr.
A Tor Mass Market Paperback
0-812-57093-6 / $7.99
January 2000