THE SECOND BOOK OF THE COREAN CHRONICLES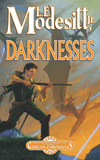 0-765-34633-8
In 2002, L.E. Modesitt, Jr., the author of the Recluce Saga and the Spellsong Cycle launched a marvelous new fantasy series with Legacies, the first book of the Corean Chronicles. Called "solidly engrossing" by Kirkus Reviews, it introduced the world of Corus, the first Modesitt imaginary world to incorporate supernatural creatures into its design. Its hero was Alucius, one of the "Talented" few who can use the magic of Corus. Now, in DARKNESSES, Alucius returns to face new challenges.
Alucius' father was a member of the Militia and killed in action when Alucius was very young, leaving him to be raised by his mother and grandparents on their ranch, herding the magical Nightsheep. As he grew up, it was obvious to his family that Alucius possessed a strong Talent and they worried that his skill would be discovered, drawing him into a life of servitude to the rich and powerful who would use his Talents for themselves. In an effort to protect him, Alucius is home-schooled and hidden as much as possible, but when it comes time for Alucius, like all young-men in Corus, to serve in the Militia, he must set out on his own.
Wars are breaking out across the land and the new soldier Alucius is captured and enslaved by the invading slave armies of the Matrial, immortal ruler of the neighboring Madrien. As the state of Corus worsens, Alucius begins to realize that now is the time to put his Talent to use. He is able to escape and has now been named the youngest captain in the militia. With his new rank, Alucius also faces new challenges, both magical and military.
Millennia ago, a magical disaster caused the fall of a great civilization that spanned a continent, and ended a golden age. Corus became a world of small contending countries struggling to survive with little hope of recreating past glories. Now, leading the Horsemen of the Plains, comes a new would-be conqueror, a man with ambitions to recreate the ancient empire. Alucius had retired to his Nightsheep ranch to be a simple herder, but is forced to leave his new bride behind and join the fight against the invaders' sorcerous attack. Alucius's talent and his skills as a military commander will both be put to the test, as he begins to understand the true forces of evil behind the war and finally meets the mysterious ancient Soarers, magical beings who may show him the only way to defeat an enemy he never could have imagined. Alucius and his Talent might be Corus' only hope of survival.
Buy this Book at Amazon
|
Buy this Book at BN.com
|
Buy this Book at Powells
DARKNESSES
L.E. Modesitt, Jr.
A Tor Mass Market Paperback
0-765-34633-8 / $7.99
May 2004