THE FOURTH BOOK OF THE SAGA OF RECLUCE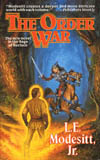 0-812-53404-2
The Saga of Recluce, launched with The Magic of Recluce and continuing in The Towers of the Sunset and The Magic Engineer reaches a new climax in THE ORDER WAR. "Modesitt has created an exceptionally vivid world," says L. Sprague de Camp, "so concretely visualized as to give the impression that Modesitt himself must have dwelt there." Publishers Weekly says, "Modesitt creates a complex world bgased on a plausible system of magic and peopled with engaging and realistic characters."
Set after the events of The Magic Engineer (and prior to The Magic of Recluce) THE ORDER WAR illuminates great figures and major events in the historic war between order and chaos that is the central focus of the Saga of Recluce.
The deadly White Wizards of Fairhaven, wielding the forces of chaos, have completed their great highway through the Westhorns and now threatened the ancient matriarchy of Sarronnyn, the last bastion of order in Candar. The ruler of Sarronnyn appeals to the Black order wizards of Recluce for help.
Justen—a young Black Engineer in the city of Nylan—joins the relief force. Despite their success in destroying more than half the White armies, Sarronnyn falls to the White Wizards, and Justen is chased into the most inhospitable desert in Candar. These trials are but the beginning, for the White Wizards have all Candar in their grasp. Justen must fight both Recluce and Fairhaven, as well as the highest powers of order and the forbidden technology to harness chaos itself in his efforts to halt the conquest of the chaos wizards.
Buy this Book at Amazon
|
Buy this Book at BN.com
|
Buy this Book at Powells
THE ORDER WAR
L.E. Modesitt, Jr.
A Tor Mass Market Paperback
0-812-53404-2 / $7.99
February 1996