/ Science Fiction and Other Novels
THE PARAFAITH WAR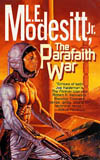 0-812-53894-3
Some bad ideas go back a long way and this one goes all the way back to the original home planet: Someone's god told them they had a right to more territory—so they figure they can take what they want by divine right. In the far future among the colonized worlds of the galaxy there's a war going on between the majority of civilized worlds and a colonial theocracy.
Trystin Desoll grows up fighting against religious fanatics and becomes a hero, a first-class pilot, then, amazingly, a spy.
What do you do if you're a relatively humane soldier fighting millions of suicidal volunteers on the other side who know that they are utterly right and you are utterly wrong, with no middle ground?
Trystin Desoll has an idea.
Buy this Book at Amazon | Buy this Book at BN.com | Buy this Book at Powells
THE PARAFAITH WAR
L.E. Modesitt, Jr.
A Tor Mass Market Paperback
0-812-53894-3 / $7.99
February 1997
© 2006-2007 by Tom Doherty Associates, LLC. Tor® and Forge® are trademarks of Tom Doherty Associates, LLC, and are registered in the U.S. Patent and Trademark Office.