/ Science Fiction and Other Novels
HAMMER OF DARKNESS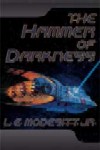 0-812-56322-0
Martin Martel is an exile in trouble with the gods in this SF novel by the bestselling writer L. E, Modesitt, Jr, now back in a new trade papeback edition from Tor.

After finding out that he has unusual powers, he is banished from the planet Karnak. Martin is thrust into the tranquil world of Aurore, vacation paradise for the galaxy. There he finds that the reality of Aurore is much different from its serene veneer. The gods are wantonly cruel and indifferent to the chaos they cause: are they really gods or just men and woman with larger-than-life powers? Whatever the answer Martin Martel must challenge their supremacy to defend his life, love, and the fate of all mankind.
Buy this Book at Amazon | Buy this Book at BN.com | Buy this Book at Powells
HAMMER OF DARKNESS
L.E. Modesitt, Jr.
A Tor Mass Market Paperback
0-812-56322-0 / $4.99
March 1996 (out of print)
© 2006-2007 by Tom Doherty Associates, LLC. Tor® and Forge® are trademarks of Tom Doherty Associates, LLC, and are registered in the U.S. Patent and Trademark Office.