/ Science Fiction and Other Novels
GRAVITY DREAMS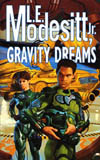 0-812-56661-0
In Earth's distant future, Tyndel is both teacher and mentor, a staunch devotee to his conservative and rigidly structured religious culture. Then a rogue infection of nanotechnology transforms him into a "demon", something more than human, and he is forced into exile, fleeing to the more technologically advanced space-faring civilization that lies to the north, one that his own righteous people consider evil. Although shaken by his transformation, he has the rare talent required to become a space pilot. What no one, least of all Tyndel, expects, is his deep-space encounter with a vastly superior being—perhaps with God.
Buy this Book at Amazon | Buy this Book at BN.com | Buy this Book at Powells
GRAVITY DREAMS
L.E. Modesitt, Jr.
A Tor Mass Market Paperback
0-812-56661-0 / $6.99
July 2000
© 2006-2007 by Tom Doherty Associates, LLC. Tor® and Forge® are trademarks of Tom Doherty Associates, LLC, and are registered in the U.S. Patent and Trademark Office.