/ The Saga of Recluce Series
WELLSPRING OF CHAOS
THE TWELFTH BOOK OF THE SAGA OF RECLUCE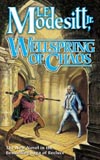 0-765-34808-X
From the bestselling author of the Recluce Saga comes WELLSPRING OF CHAOS, the twelfth book of L. E. Modesitt, Jr.'s Recluce series.
In this exciting addition, Kharl is the best cooper in one of Nordla's major cities, Brysta. His life has been as ordered and dependable as his barrels, until he saves a neighbor's daughter from the violent advances of two upper-class men. His troubles only grow when Kharl rescues an unconscious rape victim he finds in an alley. The girl is a blackstaffer—a young expatriate mage—from Recluce, which makes his wife very uneasy when Kharl gives her sactuary in his cooperage. The culprit in both cases turns out to have been Egen, the cruel and corrupt son of the local ruler. When the blackstaffer is mysteriously murdered in the cooperage, Kharl is jailed, tried, and flogged, and in an unexpected turn of events during the trial, released - and his innocent wife is executed for the murder. Egen again. Kharl ends up on the run, taking the murdered girl's black staff and her book explaining the principles of the staff's power. The master cooper now becomes a novice in a very different craft.
WELLSPRING OF CHAOS is Modesitt at the top of his form, returning to his most famous fantasy world, yet enjoying the book does not require previous knowledge of Recluce. Its publication is sure to be one of the fantasy milestones of the year.
Read an excerpt.

BookwrapCentral Video Interview.
Buy this Book at Amazon | Buy this Book at BN.com | Buy this Book at Powells
WELLSPRING OF CHAOS
L.E. Modesitt, Jr.
A Tor Mass Market Paperback
0-765-34808-X / $7.99
April 2005
© 2006-2007 by Tom Doherty Associates, LLC. Tor® and Forge® are trademarks of Tom Doherty Associates, LLC, and are registered in the U.S. Patent and Trademark Office.