/ The Saga of Recluce Series
SCION OF CYADOR
THE ELEVENTH BOOK OF THE SAGA OF RECLUCE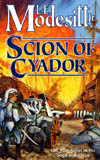 0-812-58926-2
Bestselling author, L.E. Modesitt, Jr. returns to his popular Saga of Recluce for another tale of Lorn, a talented boy born into a family of Magi'i. SCION OF CYADOR, is the direct sequel to Magi'i of Cydor (Tor 2000).
SCION OF CYADOR picks up right where Magi'i of Cyador left off. Lorn who was made a Lancer officer and shipped to the frontier against his wishes has managed to survive battles with barbarian raiders and the giant beasts of the Accursed Forest. Despite the odds against him, Lorn has become a talented officer and his success has attracted a lot of attention. Now, the fighting is over and Lorn has returned home, a marked man who faces the challenge of protecting his family.
Buy this Book at Amazon | Buy this Book at BN.com | Buy this Book at Powells
SCION OF CYADOR
L.E. Modesitt, Jr.
A Tor Mass Market Paperback
0-812-58926-2 / $7.99
December 2001
© 2006-2007 by Tom Doherty Associates, LLC. Tor® and Forge® are trademarks of Tom Doherty Associates, LLC, and are registered in the U.S. Patent and Trademark Office.