/ The Saga of Recluce Series
THE CHAOS BALANCE
THE SEVENTH BOOK OF THE SAGA OF RECLUCE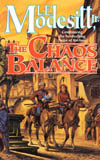 0-812-57130-4
The Saga of Recluce by L.E. Modesitt, Jr., has become one of the standard works of fantasy in the 1990s. VOYA says, "Modesitt's logical structure of the interrelationship of order and chaos, magic and technology, is one of the most through in modern fantasy. The personal growth of his characters and the depiction of their world, it well-written and credible—and involves the reader... The serious fantasy reader will revel in Modesitt's work." Launched with The Magic of Recluce, the novels of Recluce have gone on to sell over a million copies in paperback.
The most recent of the Recluce novels, Fall of Angels, introduced the engineer/smith Nylan, the only man among the leadership of the company of "angels" marooned on a high plateau in the west of Candar, and perhaps the one person most responsible for their survival. But the angels are a matriarchal band, and so Nylan must leave his companions and seek a life elsewhere. He travels down from the plateau into the world of warring kingdoms and strange magics with his companion, Ayrlyn, the healer, and his infant son. They are in search of a place to lead a peaceful life, but they look different from the locals, and their talents are most valued in battle - and so the war between chaos and order begins again.
Buy this Book at Amazon | Buy this Book at BN.com | Buy this Book at Powells
THE CHAOS BALANCE
L.E. Modesitt, Jr.
A Tor Mass Market Paperback
0-812-57130-4 / $7.99
June 1998
© 2006-2007 by Tom Doherty Associates, LLC. Tor® and Forge® are trademarks of Tom Doherty Associates, LLC, and are registered in the U.S. Patent and Trademark Office.