/ The Spellsong Cycle Series
SHADOWSINGER
THE CONCLUSION TO THE SPELLSONG SAGA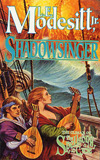 0-765-34258-8
L.E. Modesitt's popular fantasy series, the Spellsong Saga, which began with The Soprano Sorceress (Tor, 1998) now culminates in a fifth and final novel, SHADOWSINGER. SHADOWSINGER is a direct sequel to the previous book in the series, The Shadow Sorceress (Tor, 2001).
With the passing of Anna, the Soprano Sorceress, her protégé, Secca, has moved into a position of power. Young and not fully trained, Secca faced major challenges in proving herself to the ruler of DeFalk—and won. Now, secure in her powers and married to her ally and love, Alcaren, Secca must continue to battle the enemies of her Kingdom. Fearing an attack from the Sturrinese people, she journeys to the islands they call home, hoping to use her power to defeat the enemy at their source. Through the difficult trials she faces, the young sorceress must continue to fight on, knowing that soon she will face the most powerful wizard in the world and the massive army that he controls.
Fans of L.E. Modesitt's earlier books in the Spellsong Saga are eagerly awaiting this final installment and won't be disappointed by SHADOWSINGER. Readers of Modesitt's other series will also enjoy his trademark adventures and fun characters.
Buy this Book at Amazon | Buy this Book at BN.com | Buy this Book at Powells
SHADOWSINGER
L.E. Modesitt, Jr.
A Tor Mass Market Paperback
0-765-34258-8 / $7.99
March 2003
© 2006-2007 by Tom Doherty Associates, LLC. Tor® and Forge® are trademarks of Tom Doherty Associates, LLC, and are registered in the U.S. Patent and Trademark Office.